Post by Vinegaress on May 6, 2013 23:17:04 GMT
Ancient Roman Cemetery Found Under Parking Lot In Leicester; 'Unusual' Site Included Pagan, Christian Burials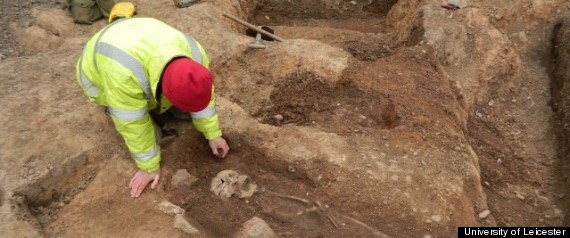 Some archaeological units spend years looking for that one, amazing dig site. And some make history twice in a matter of a few years.

Such was the case this past week, when it was announced that the University of Leicester's archaeological unit -- the same group that unearthed the body of King Richard III -- just dug up the remains of a 1,700-year-old Roman cemetery. Both discoveries were made beneath old parking lots.

The team identified 13 different skeletons in the cemetery, the Telegraph notes, along with artifacts including jewelry, belt buckles, and a ring bearing what appeared to be an early Christian symbol.

According to a University of Leicester press release, the cemetery existed outside the town of Roman Leicester around the year 300 A.D.

The burial site was particularly unusual in its variation of belief systems represented.

"Unusually, the 13 burials found during the recent excavations, of mixed age and sex, displayed a variety of burial traditions including east to west and north to south-oriented graves, many with personal items such as hobnailed shoes," Archaeological Project Officer John Thomas said in the university's release.

"We were surprised by this," Thomas added, via the Leicester Mercury. "It's quite a juxtaposition of traditions, so it may be that we've found an area of a cemetery where they mixed religious beliefs."

The Mercury also notes that one of the bodies had been buried with its head removed and placed by its feet. According to the Mercury, the dig site was first identified in 2006. The parking lot is set to be turned into student apartments, so the university's team must work fast before the developers move in.

"We have literally only just finished the excavation and the finds are currently in the process of being cleaned and catalogued so that they can then be analyzed by the various specialists," Thomas told LiveScience in an email.

In February, archaeologists from the University of Leicester announced that DNA testing confirmed "beyond reasonable doubt" the discovery of Richard III's body. The dead king's skeleton had been found under a parking lot in Leicester last September.

In the ensuing months, further tests have revealed details about the disgraced king, including a potentially painful and long-term battle with adolescent onset scoliosis.

It's been a good season for European archaeologists in general. In April, researchers from the Museum of London Archaeology (MOLA) announced the discovery of an astonishingly well-preserved section of the ancient city of Roman London, including thousands of rare artifacts and in-tact streets.

Additionally, archaeologists announced back in March the discovery of an unidentified skeleton believed to belong to a medieval knight or nobleman buried along with several other bodies under a Scottish parking lot.

Source
How fascinating! It really makes you wonder what else is buried around us that we don't even know about it.